Dane kontaktowe
Wystawiona przez:
Użytkownik ukryty
Telefony stacjonarne:
brak
Telefony komórkowe:
brak
E-maile:
brak
Dane aukcji
Id aukcji:
Data wystawienia:
Data zakończenia:
Cena:
Ilość wystawionych:
Kategoria:
Treść aukcji
Koparka łańcuchowa mini DITCH WITCH MINIKOPARKA
Koparka łańcuchowa
DITCH WITCH HT 25
 z opcja mini koparki, stan Bardzo Dobry !!
silnik Kubota Diesel, bardzo szczedny.
oraz SUPER rozwiazania!!! przewiertow pod drogami itp... na dlugosci 10m.
( minikoparka, trencher, minikop mini koparka)
ROK PRODUKCJI 2003
ILOSC GODZIN 450
STAN DOBRY Z PLUSEM!!
WIECEJ INFORMACJI TECHNICZNYCH W PONIZSZYM ZAŁACZNIKU:
http://www.ditchwitch.com/pdf/manuals/Ditch_Witch_HT25_Manual.pdf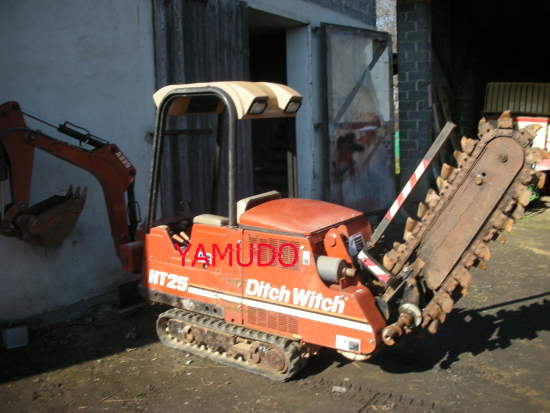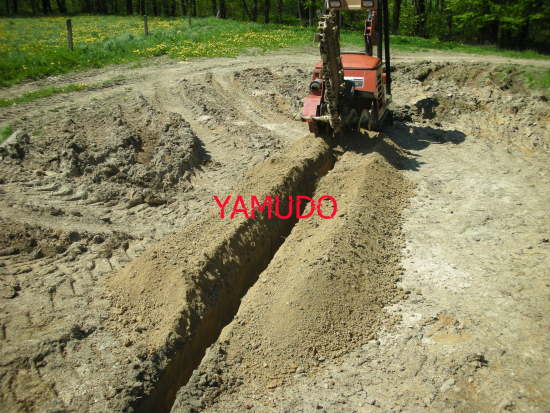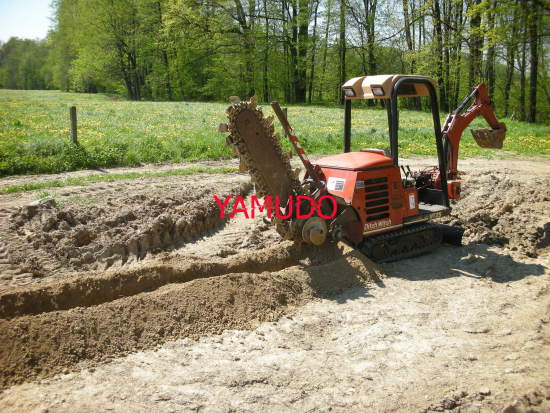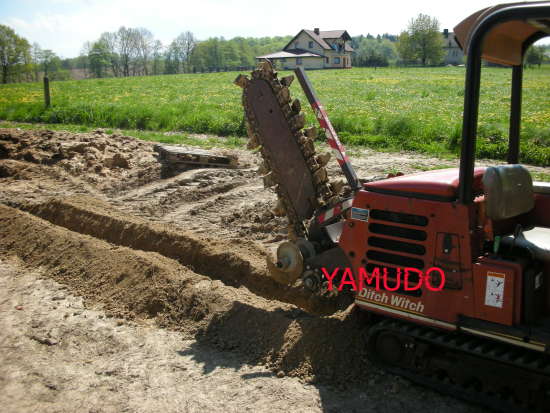 SPECIFICATIONS, HT25DIMENSIONSU.S.METRICTrench depth, max.48 in1.22 mAngle of approach19°Angle of departure18°Trench width, max.16 in406 mmBoom angle, down53°Boom angle, up50°Height, top of cab80 in2.03 mBasic unit length, transport120 in3.05 mCenterline of track, hub to hub39 in990 mmWidth, transport35.5 in902 mmWidth, center of tracks26 in660 mmOPERATIONU.S.METRICVehicle Speeds    Maximum transit forward2.3 mph3.7 km/h    Maximum transit reverse1.7 mph2.7 km/hDigging chain speed @ 3000 engine rpm364 fpm111 m/minHeadshaft speed @ 3000 engine rpm180 rpmOperating weightw/ 3-ft (914 mm) boom, backfill blade, cab and A225 backhoe4080 lb1850.7 kgw/ attachment frame, 6-in (157 mm) chain, and backfill blade2660 lb1206.5 kgBACKFILL BLADEU.S.METRIC4-way hydraulic lift, angleBlade width35.5 in902 mmBlade height9.9 in251 mmBlade lift, above ground30°Blade drop, below ground20°Maximum swing angle, left/right28°Standard left auger    Diameter4 in100 mm    Length13.5 in343 mmStandard right auger    Diameter10.5 in267 mm    Length12.2 in310 mmOffset auger (optional)    Diameter10.5 in267 mm    Length16.4 in417 mmPOWERU.S.METRICEngineKubota D1105-ESFuelDieselCooling mediumLiquidInjectionIndirectAspirationNaturalNumber of cylinders3Displacement68.6 in31.1 LBore3.07 in78.0 mmStroke3.09 in78.4 mmManufacturer's gross power rating (per SAE J1995)26 hp19.4 kWEstimated net power rating (per SAE J1349)24.5 hp18.3 kWRated speed3000 rpmPOWER TRAINGround drive: Dual hydrostatic, infinitely variable from zero to maximum, hand-lever operated speed/direction controlService brake: Ground drive speed/direction controls brake machine hydraulically when moved to neutral positionParking brake: Disc, spring applied, hydraulic pressure-releasedTracks230 x 39 x 72 fpTrencher drive    TransmissionBelt drive through gearbox reduction    ClutchElectric over hydraulicFLUID CAPACITIESU.S.METRICFuel tank6 gal22.7 LEngine oil, with filter4.5 qt4.3 LEngine cooling system6 qt5.7 LHydraulic system10.1 gal38.2 LHydraulic reservoir8.7 gal32.9 LHYDRAULIC SYSTEMU.S.METRICGround drive    Pump capacity11.8 gpm44.9 L/min    Pump reliefTrack slipAuxiliary    Pump capacity per track6.7 gpm25.2 L/min    Pump relief2320 psi160 barBATTERYU.S.METRICGroup26SAE cold crank rating @ 0° F (-18° C)525 ampsSAE reserve capacity rating85 min



KONTAKT +48 604 052 797
Wiecej informacji na @
ZAPRASZAM NA POZOSTAŁE MOJE

 Nie udzielam zgody na licytowanie, bez wczesniejszego uzgodnienia.